Iowa City Legal - A Premier Personal Injury Lawyer in Iowa City
What counts as a vehicle accident?
A vehicle accident refers to any accident that involves some type of motorized vehicle, such as a car, truck, or motorcycle.  The accident may also involve pedestrians or bicyclists.  
A vehicle accident can happen in a matter of moments, and it can turn the lives of those involved completely upside down.  If a vehicle accident occurs due to another party's negligent driving and you are injured as a result, you may be entitled to compensation for your medical bills, lost wages, and pain and suffering.
If you've been injured in a motor vehicle crash or accident of any kind, get in touch with Iowa City Legal.  Iowa City Legal is a premier personal injury law firm in Iowa City.  We help our clients get the legal services they deserve in the event of a personal injury, and we don't see a single fee unless we win for you.
Types of Vehicle Accidents
Legal claims from motor vehicle accidents are typically governed by the law of negligence. A person who negligently operates a vehicle may be required to pay for any damages, either to a person or property, caused by his or her negligence. The injured party, known as the plaintiff, is required to prove that the defendant was negligent, that the negligence was the proximate cause of the accident, and that the accident caused the plaintiff's injuries.
Be sure to call the police and get an accident report on file.  If you are able to take some photographs of the accident scene or vehicle damage, that may be helpful as well.
A commercial truck accident can be much more catastrophic than an accident between two personal-use vehicles.  This is because a typical, fully loaded big rig truck (such as a dump truck or a tractor-trailer) weighs at least 25 times as much as a typical car.  Due to this stark weight disparity and the basic laws of physics, most big rig truck accidents with other vehicles result in serious, even fatal, injuries.
Motorcycle riders are in a unique position on the road. They enjoy the freedoms that come with their chosen form of transportation, but they are also exposed to dangers not met by other motorists. For instance, the lack of any substantial protective barriers between a motorcycle and the road, as well as the difficulty that other motorists may have in anticipating and seeing a motorcycle, leave riders prone to serious injury in the event of an accident.
Be sure to call the police and get an accident report on file.  If you are able to take some photographs of the accident scene or vehicle damage, that may be helpful as well.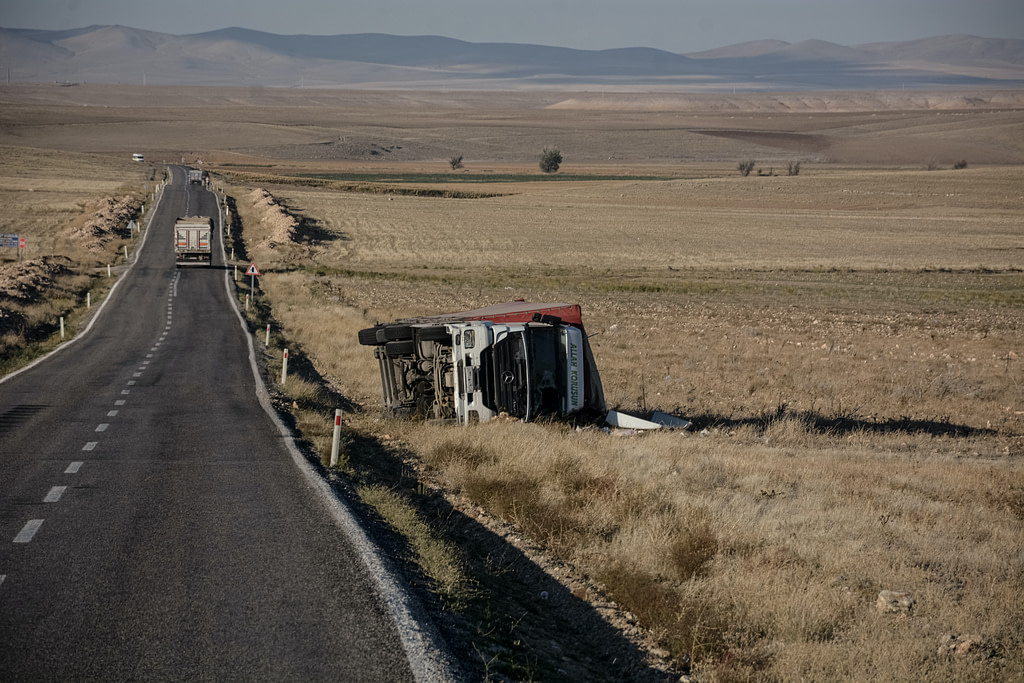 Building a Personal Injury Claim After a Car Accident
There are quite a few steps to building a personal injury claim after a vehicle accident.  Here are some steps you can take to put yourself in the best position possible to build a successful claim:
1 | Initial Investigation
First and foremost, your safety should be your number one priority at an accident scene. If you are injured and need medical treatment, get the care you need.  Be sure to seek treatment as soon as possible for any related injuries—no more than three days is a good rule of thumb.  The insurance company will look at the length of time between the accident and any subsequent treatment to determine causation for your claimed injuries.
Be sure to call the police and get an accident report on file.  If you are able to take some photographs of the accident scene or vehicle damage, that may be helpful as well.
2 | Filing an Insurance Claim
After an accident, you should notify your auto insurance company so they can set up a claim.  Oftentimes, your insurer and the claims adjuster they assign to you are in the best position to help you get your vehicle fixed or handle a total loss so you can get back on the road as quickly as possible.  
Keep in mind that you should never give a recorded statement to the insurance company at this stage—even your own.  They will look for ways to use this against you in your personal injury claim.  If your own insurance company insists on a recorded statement, you do legally have to provide one in order to fulfill your contractual obligations and receive the benefits of your coverage with them.  However, this should only be done after you have consulted with an attorney who can properly supervise any requests for recorded statements.
3 | Initial Consultation With A Vehicle Accident Attorney at Iowa City Legal in Iowa City
If you have a personal injury claim in addition to any property damage, you will certainly want to consult with an attorney.  Here at Iowa City Legal, we are the #1 personal injury lawyer in Iowa City, which means your claim will be taken on personally by our experienced team.  Scheduling an initial consultation is free, and we don't see a dime unless we win for you.  Hiring Iowa City Legal will help you have the upper hand with the insurance company.  You can read more about our process below to find out how.
Car Accident Personal Injury Lawyers - The Iowa City Legal PLC
Car accidents are one of the most debilitating incidents someone can suffer, and more often than not, they can come out of nowhere.  
No matter whether it's a car accident, a truck accident, a motorcycle accident, or some other kind of motor vehicle accident, Iowa City Legal is here for you.    We will take care to hear your story, gather evidence like medical records and testimonies, and put together a case that will get you the representation and compensation you need and deserve. 
At Iowa City Legal, we operate on a contingency fee basis, which means we don't charge anything until we win for you.  So what are you waiting for?  Get in touch with Iowa City legal and schedule a free consultation, today.